Using multiple tools to keep track of potential clients and pending tasks?

Want to do more, grow your audience, and still have time for the fam?

Would you like to have professional appeal and seamlessly grow your business?

Need a simple, easy to use and cost effective solution to your business needs?
If your answer is 'Yes' to any of these questions, you are at the right place! We have solution to all these problems and more.
Don't believe it? Sign up now and find out yourself, no strings attached!
Have questions? Schedule a demo or send an email to contact@mybizzhive.com
Available in USA, Canada, UK, Australia, New Zealand and many other countries across the world!
GET ORGANIZED. SAVE TIME. GROW BUSINESS.
Leads
Manage contacts
& leads
Quotes
Send electronic quotes & collect e-signatures
Contracts
Effortless contracts management service
Invoices
Send digital invoices
Payments
Collect deposits or payments
Bookings
Manage bookings & deliver service
MyBizzHive's CRM software for DJs business helps service providers manage potential customers, win more bookings and serve existing customers seamlessly.
No matter what size of business you have, you have to take care of the management aspect of the company. This includes the business process from acquiring a client, retaining, signing them up, and invoicing. If you are starting, chances are it is not a priority to hire a secretary or assistant to take care of these things. The most sensible thing to do is to automate your business through a Best
DJs CRM software.
No set up required

(Create free account and start using)

Customizable

(Match with your process and terminology, takes only few minutes)

Secure

(We won't share your data with any third-party, ever!)

Accessible

(Use any device to access your account, no app needed)

Pick a plan matching your needs

(Upgrade anytime)

Great customer service
Client management is the art of enhancing your relationships with your customers, establishing trust, and ensuring they are satisfied. Without your clients, there is no revenue. If you want to cater to more customers, you need a professional vibe to attract more clients. This is where a DJ client management software comes in. If you are a DJ who plays for all types of events, then the
best DJs CRM software will make your life easier and organized.
What are the Benefits of a Client Management Software?
The CRM software for DJ business tracks every customer you have and keeps a profile on them in case of a repeat transaction. Having a system in place does not only help you but your relationship with your existing clients. Each client gets to experience a personal touch as they are organized per client profile. This lets you understand the preferences of every customer. You can adjust packages based on your client type.
Finding new clients can be easily be done through our disco jockey CRM. This can help increase your revenue and help your DJ services grow.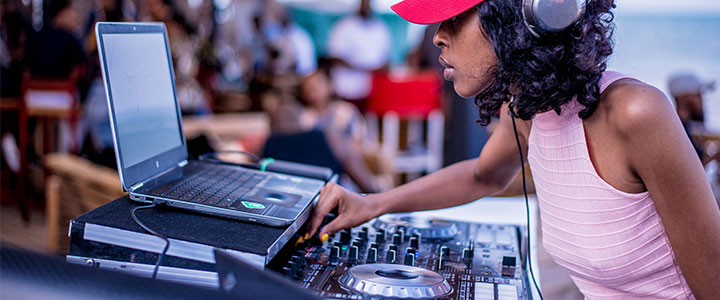 What are the Things you can Do with MyBizzHive's DJ Client Management Software?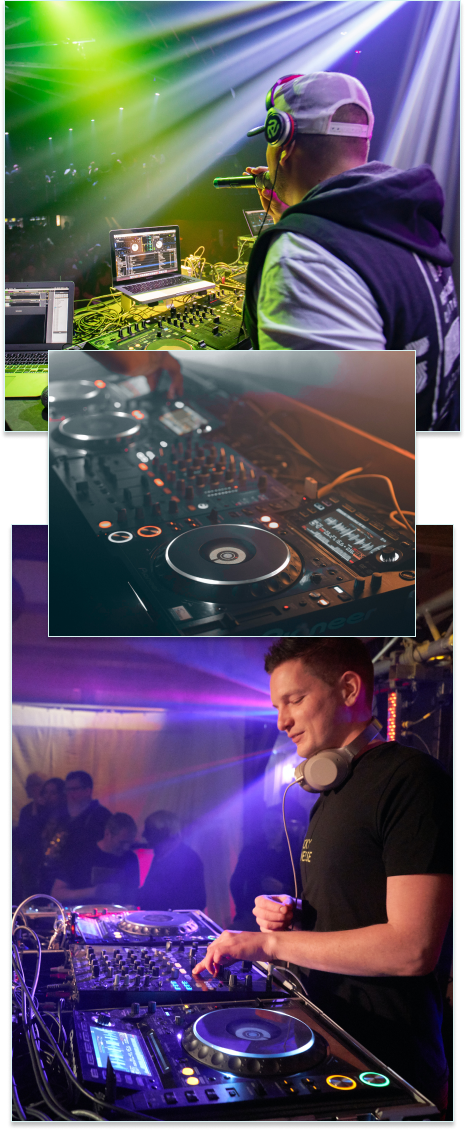 Contacts and Leads Management

You can improve your client organization by viewing the list of your customers and managing your leads all in one software. This feature allows you to create new leads who can contact you through your website. Leads are potential customers who have filled out a form or expressed interest in availing of your services. You will not know how?? they are unless they continue to the next step in inquiry, booking until closing a transaction. Once they get in touch, you can customize them based on your processes, such as following up with them, sending reminders, and others. With client management software, you do not have to memorize who comes first and what is next for a particular client. Just view the list on what's the next step for every client.

Send e-Quotes and Ask for e-Signatures

Every client has different needs. Collaborate with them for their perfect event and get a heads up when they agree. You can customize packages to cater to their tastes and add relevant information. Streamline your process by uploading your terms, and recommend add-ons. A client management software also lets you generate quotes for every client using a template and send them via e-mail. When customers accept the quotations you sent and make a partial payment, you will get a notification; thus, you can proceed to the next step. The management software can also update your schedule automatically.

Invoices and Payments

You do not have to create an invoice manually. Invoice templates in the affordable CRM for business can make things easier. You can create a template for every package, generate an invoice for every sale, and send digital invoices to the customer's e-mail. You can get a notification once the customer settles the payment to your PayPal or Stripe. There is no additional processing fee collected for this service.

Bookings Management

Seamlessly organize your bookings and booking packages without confusion with the management software. You can input the location and directions because the software is integrated with Google maps. After your client agrees to the quote you sent, there is an automatic or manual booking creation option. You can view your bookings in one place without overbooking or double booking.
Ready to Start?
PLANS

Silver

Get Organized

Manage Clients, Tasks, Notes & Bookings

FREE

forever

Gold

Look Professional

Silver + Digital Quotes/Estimate

$18.00

per month

$180.00 (1 year)

(save 17%)

Platinum

Scale Business

Gold + Digital Invoices & Online Payments

$29.00

per month

$290.00 (1 year)

(save 17%)

1 Month
Free Trial*

Contacts
Leads
Tasks/Notes
Bookings
Quotes/Contracts
Branding
E- signatures from your customers
Deposits/Payments
Invoices
Start FREE Trial

NO Credit card required

* At the end of the trial, you will be automatically moved to the free plan, no action needed.
Have questions or need help with setting up? Talk to an Expert
The Simplicity of MyBizzHive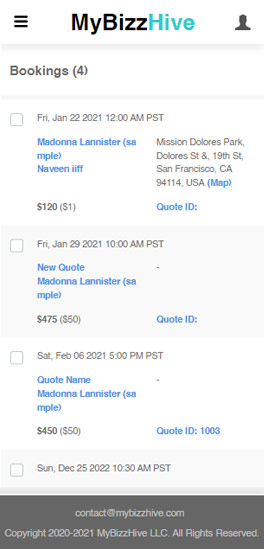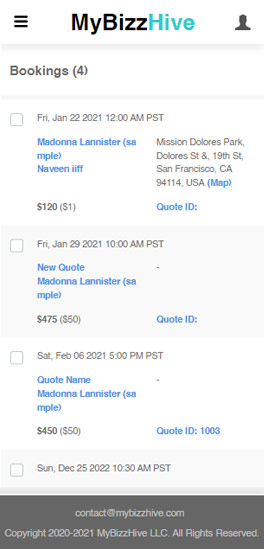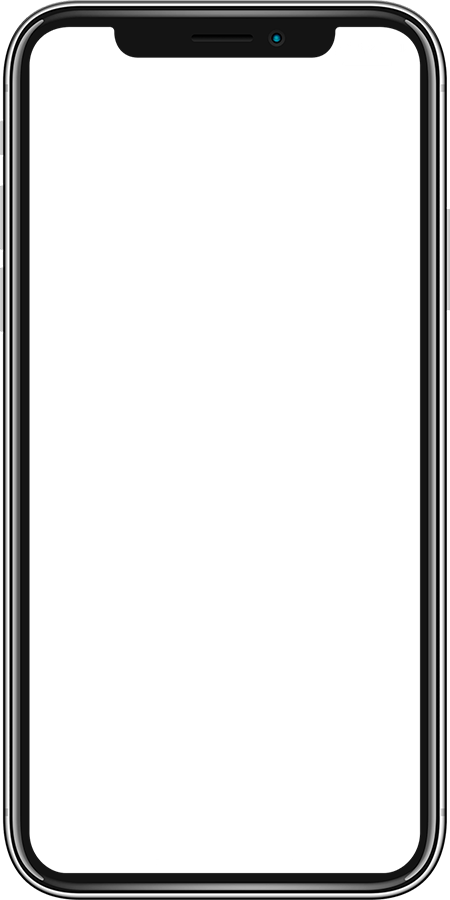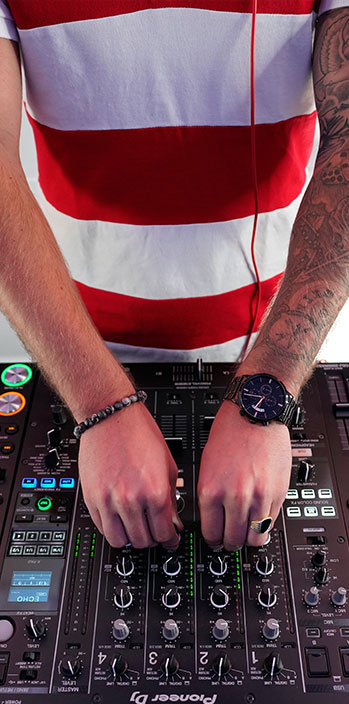 No Setup

MyBizzHive is very easy to use. Create a free account and start using it right away.

Customize

You can incorporate your process and terms in just a few minutes and customize everything to match your DJ services.

Secure and Safe

Your data and your client's information are all safe and secure. There is no third-party sharing of whatever information you have in the software.

Easily Accessible

You can access the software wherever you are - via the web browser on a computer or a mobile device. There is no app to download.

Switch Plans as Needed

You can upgrade anytime you wish to meet your needs in your service-oriented business.

Customer Service

MyBizzHive has top-notch customer service. If you encounter issues in using the client management software, you can easily reach them for any questions.
MyBizzHive's DJ Client Management Software is A Great Investment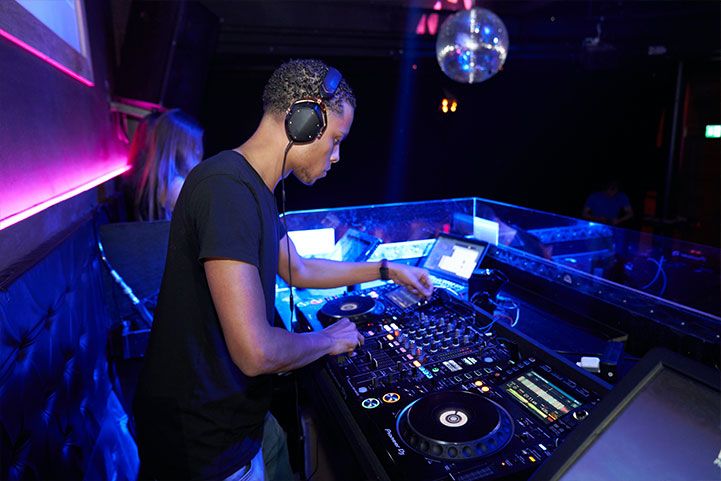 MyBizzHive's DJ Client Management Software is A Great Investment
MyBizzHive's DJ client management software is a great investment to stay organized. This program keeps you professionally in order so you do not have to worry about the management aspects and focus on being a DJ.
An all-in-one software keeps everything in one place.
There is no need to jump from one program to another.
Depending on your needs, there are different packages to choose from, and you can upgrade as your business grows.
MyBizzHive's Best CRM for business offers a free trial without any requirement for a credit card so you can experience professional and seamless management that can solve your problems.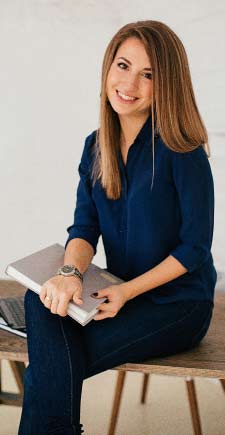 data-aos="zoom-out-up">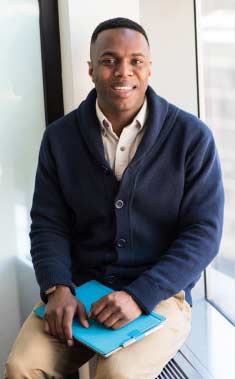 data-aos="zoom-out-up">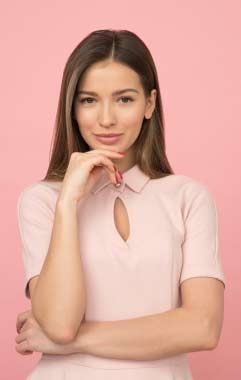 data-aos="zoom-out-up">